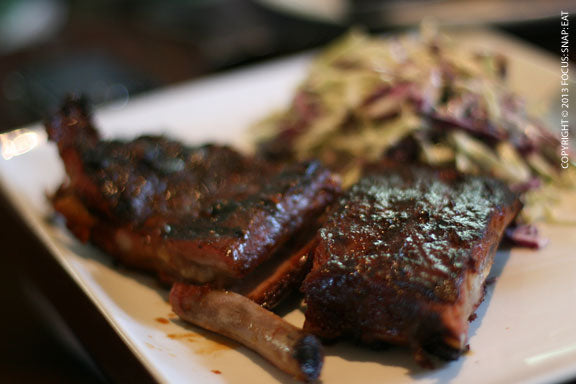 Fantastic BBQ Ribs From Chef Stephen Barber at Farmstead Restaurant
This outstanding recipe from Chef Stephen Barber will have you coming back for more! While the recipe calls for a smoker, you'll get great results with the rub finished in your home oven too.
Ingredients:
2 TBLS of Paprika
2 TBLS Brown Sugar
1 TBLS of Salt
1 TBLS Ground Cumin
1 TBLS of Black Pepper
1 TBLS of Chili Powder
Preparation:
Stir all the rub ingredients together in a bowl. Throw ¼ cup of special rub on the ribs. Strap the ribs in the smoker. Smoke them for 3-3.5 hours at 225 degrees. Chef Stephen uses a 100% wood-fired J&R oiler pit using mostly oak and cherry wood (the smoker is almost the size of a minivan!) The ribs are ready to be removed from the smoker when you feel the meat is tender and it begins to fall off the bone. Once the ribs come out of the smoker, he kisses them on the wood grill for just a few minutes and brushes them with BBQ sauce.
A Kentucky native, Chef Stephen began his culinary career at one of the best restaurants in Mississippi, City Grocery, working with Chef John Currence. Building on his Southern roots, Stephen brings his own ingredient-driven approach to Farmstead's American farmhouse cooking. Chef Stephen utilizes the organic produce, eggs, and olive oils from his own farm, Long Meadow Ranch, as well as Heritage Foods USA, and other artisanal producers.