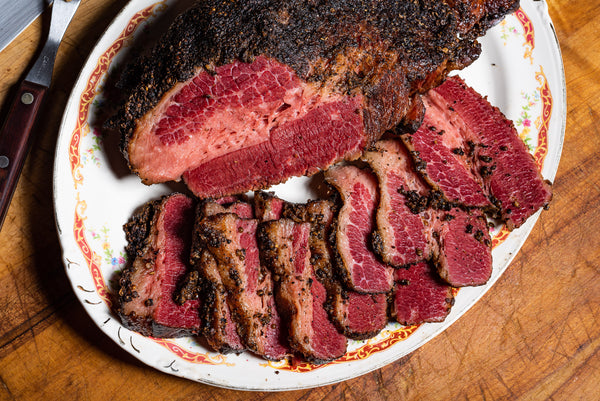 DIY Akaushi Pastrami Recipe
Quite possibly the most famous sandwich sold in New York City delis, Pastrami on Rye originated in Romania and was brought to the states by Jewish Romanian immigrants. Sussman Volk, who is considered to have popularized the sandwich in the end of the 19th and beginning of the 20th century, received the recipe from a Romanian friend and served it at his butcher shop at 88 Delancey street in Manhattan. The sandwich became so popular that he converted his butcher shop into a restaurant to keep up with the demand.
Referenced innumerably in popular culture from the famous scene at Katz' Delicatessen in When Harry Met Sally ("I'll have what she's having"). As film director Orson Welles once said "there would be no picture making without pastrami," Here our recipe sticks more or less to traditional recipes, adding a few slightly non-standard aromatics in the brine, (read: orange, tarragon, star anise). While this recipe shines in its original form using brisket, try this with a Frank Reese Heritage Turkey (one of our favorite alternative ways to cook these birds).
Brine
:
7.5L water (split 3.5L simmered/4L cold)

600 grams salt

75 grams pink salt

450 grams sugar

3 bay leaves

1 head garlic (cut in half, crushed,)

20 grams fennel seed

10 grams star anise

40 grams black peppercorn

1 bunch tarragon

Juice and peel from 1 orange
Preparation:
Remove brisket from the package and pat dry with paper towels and trim the fat cap to your liking. Leave at least ¼–½" fat cap. Place the brisket in a large non-reactive container with a lid.
In a large stock pot, combine all ingredients and 3.5L water and bring up to a simmer to dissolve salts and sugar, pour into a container with 4L cold water and cool to room temp and cover the brisket in a large container with a lid, and refrigerate for 2-5 days.
Dry Rub:


120g Black peppercorns

80g Coriander
Preparation:
Remove Brisket from the brine and pat dry with paper towels.
Coarsely grind in a mortar and pestle (or electric spice grinder) and cover the top fat cap of the brisket in dry rub.
Pastrami:
Preheat the smoker to 225 F degrees.
Add dry rubbed brisket to the smoker and cook until the internal temperature reaches 160-170F degrees, approximately 2-3 hours.
Remove from the smoker, wrap in foil or butcher paper and return to the smoker for its final cook up to an internal temperature of 200 F degrees, approximately 3 more hours.
Rest for at least 30 mins before slicing. Serve hot or cold on your favorite pastrami sandwiches or use leftovers for a breakfast hash with potatoes.