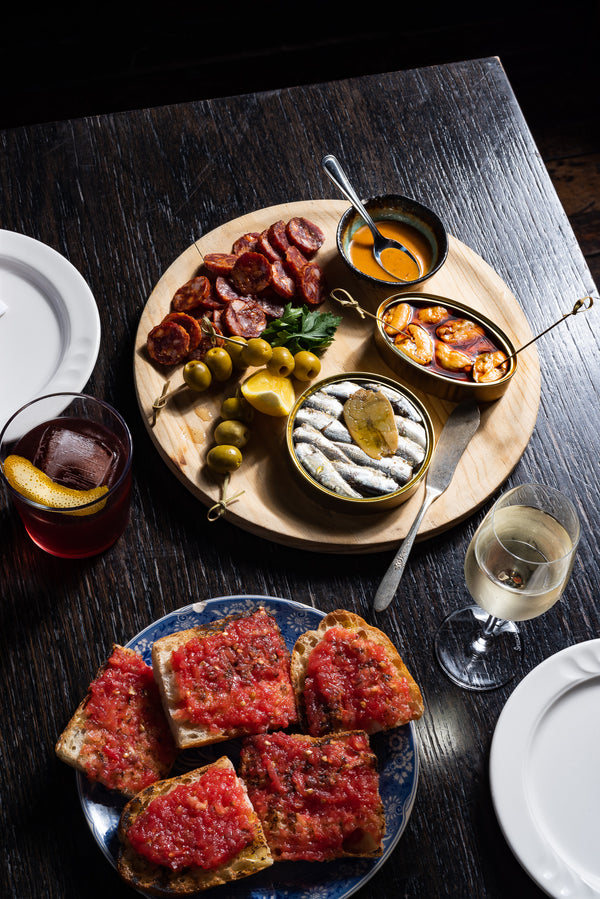 Chef Jonah's Pan Con Tomate Recipe from our Tapas Dinner Kit
Tapas are perfect for appetizers or a light meal paired with a crusty baguette and a wine from Basque country! 
Jonah Miller, Chef and Owner of Huertas in New York City, has created a Basque-influenced tapas menu for Heritage, evoking the lively eating and drinking culture of Northern Spain. Huertas is known for pintxos, or small bites, and conservas, seafoods skillfully preserved and canned in oil — which can now be delivered to your door.
To accompany our Tapas Dinner Kit, Chef Jonah shared with us his recipe for Pan Con Tomate, a tantalizingly simple yet delicious dish, the perfect accompaniment for conservas and charcuterie.
Ingredients:
1 lb beefsteak (or other ripe) tomatoes 

½ baguette (or whatever bread you have)

1 clove garlic

3 tablespoons good olive oil

coarse salt
Preparation:
Cut your baguette in half lengthwise.  
Toast your bread to get a bit of char without drying out the interior. You can do this under your broiler (set low), face-down on a medium-high grill, or in a toaster. 
While the bread is toasting, cut your tomatoes in half. Holding one tomato half firmly by the skin, scrape the cut-side along the largest holes of a box grater, squeezing all the juice, seeds and flesh into a bowl, but not the skins. Repeat with remaining tomatoes. Season the tomato pulp with the 2 tablespoons of olive oil and salt to taste.
When the bread is nicely toasted, cut the tip of the garlic off, exposing the interior, and gently rub the toasted bread—careful, the effect is stronger than you might think, so don't rub too hard (unless you want a strong garlic kick).  
Spoon the tomato pulp onto the bread, letting it stick in the cracks and crevices of the baguette.  Liberally dress the toasts with the remaining olive oil and salt. Cut into wedges and serve at once alongside conservas and charcuterie.