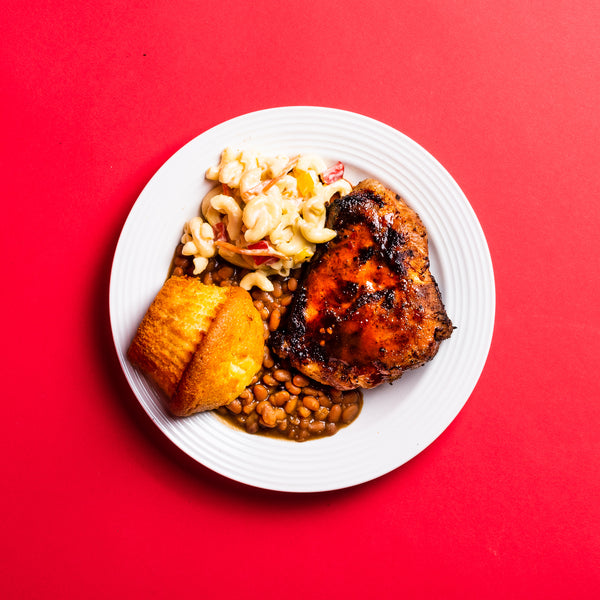 Carolina BBQ Marinade
Grilling season is upon us! Chef Q created a few marinades spanning different cuisines to up your barbecue game this summer. This Carolina BBQ Marinade includes classic barbecue ingredients and makes for a killer grilled chop. 
We are big believers in preparing heritage breed meats with little more than salt and pepper and olive oil. But we are also believers in making heritage breed meat a bigger part of our everyday diets, especially when it comes to quick cooking cuts like the porterhouse. This is where varying it up with different flavors and marinades comes in — we hope you will try our recommendations from the chefs in our warehouse kitchens for ways to being novelty to one of the most recognizable cuts in the butcher's case.
Ingredients:
½ cup pork or chicken stock

2 ½ cups cider vinegar

¾ cup ketchup

2 ½ tablespoons light brown sugar

1 tablespoon lemon juice

1 tablespoon smoked paprika

¾ teaspoon kosher salt

½ teaspoon freshly ground black pepper

½ teaspoon garlic powder

½ teaspoon onion powder

¼ teaspoon chili powder
Preparation:
In a saucepan or pot, heat all ingredients over medium-high heat until reduced by 2/3rds. Let cool to room temperature and pour into a ziploc bag with the chops. Let marinate over night in the fridge. Occasionally turn the pork chops over in the fridge to evenly distribute the marinade.
Take the meat out of the refrigerator an hour prior to cooking.
Wipe off excess marinade. Season lightly with salt and pepper.
Preheat a heavy bottomed pan over medium-high heat until hot or heat a grill until hot.
Add a tablespoon of oil and sear chops for 3-9 minutes on each side depending on its size. For pieces with a fat cap, try to render the fat on its edge for an additional few minutes. The sugar in the marinade will quickly caramelize, so be sure to flip frequently to prevent if from scorching.
Cook until desired internal temperature is reached. (140-145℉ for pork)
Let rest for 3-5 minutes before carving.