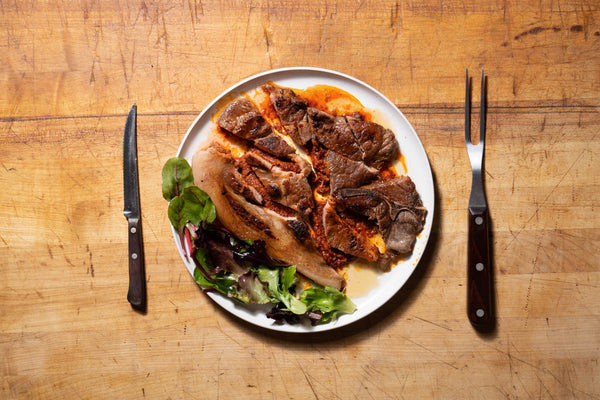 Brined Boston Butt Shoulder Steaks with 'Nduja and Honey
The classic combination of Calabrian chili and honey turns this quick meal into a show-stopper. These thin-cut boston butt steaks sear up beautifully, and the addition of Tempesta Artisan's sweet and spicy 'nduja quickly melted on top with honey adds a kick of flavor and complexity.
Ingredients:
1 pack Boston Butt Shoulder Steaks (thawed, removed from package and patted dry with paper towels)

750ml water

60 grams diamond crystal Kosher salt

38 grams granulated sugar

4.5 oz pack of Tempesta 'Nduja (sliced into ¼" slices)

2 tbsp honey

1 cup of mix greens

2 tbsp extra virgin olive oil

1 lemon juiced

Salt and pepper, to taste
Preparation:
In a large bowl, mix together water, salt, and sugar with a whisk until dissolved.
Submerge pork shoulder steaks in the liquid and brine for 2-4 hours in the refrigerator.
Remove from brine and pat dry with paper towels.
In a large skillet over medium-high heat sear one side of the shoulder steaks until deeply caramelized, about 2-4 minutes.
Flip shoulder steak to sear on the other side, and top with 2-3 slices of 'nduja.
Flip steaks out onto a plate 'nduja side down.
Drizzle with honey.
Serve with a salad of mixed greens dressed with olive oil, lemon juice, salt, and pepper.