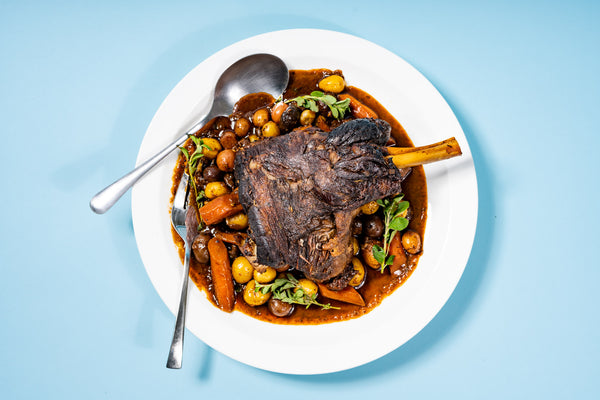 Braised Mutton Shanks
By Hannah Lyons

Practically medieval, shanks are best served whole as a majestic centerpiece, braised until the caramelized meat falls off the bone. One of the most underrated cuts in the butcher's case, these enormous shanks feed a crowd. Simply season with salt, pepper, and herbs, and roast until fork-tender. They work well served as tacos and sandwiches.
Ingredients:
3-4 pound total mutton fore shanks

Olive oil

Kosher salt

1 large Spanish onion, chopped small

6 cloves garlic, minced

2 tablespoons tomato paste

1 teaspoon fennel seeds

2 teaspoons cumin seeds

2 teaspoons smoked paprika

1 cup full bodied red wine, such as Bordeaux

1 ½ cups chicken stock or vegetable stock

1 large bunch thyme

1 large bunch oregano

3 bay leaves

½ pound small potatoes such as marble or fingerlings, cut in half if larger than a golf ball

½ pound carrots, peeled and cut into 2 inch pieces

½ pound button mushrooms, stems removed, cut in half

Fresh chopped parsley or chives for garnish
Preparation:
Heat a large, heavy bottomed pot, ideally oval shaped, over medium high heat. Season the mutton shank generously on all sides with salt. Drizzle some olive oil into your pot and then begin searing the shank. Brown on all sides, using a pair of long tongs to ensure the shank is browned on as may sides as possible. Once fully browned, remove shank to a large platter. Carefully drain out the fat from the pot, leaving a few spoonfuls behind. 
Preheat oven to 425 degrees F and tie the herbs and bay leaves together with butchers twine.
Reduce pot to medium low heat and add in the onions. Add a pinch of salt and cook, stirring often, until onions are soft and beginning to brown, 7-8 minutes (if the onions begin to dry out you can add some olive oil). Add in the garlic, tomato paste, and spices, and let fry, stirring constantly, 2-3 minutes. Add in the wine, stock, and bundled herbs, and use a wooden spoon to scrape the bottom of the pot, lifting all the browned bits. Simmer together for 5 minutes, stirring frequently.  
Return the lamb shank to the pot, cover, and then place in the oven. Lower temperature to 300 degrees and cook for 3 hours. 
After the 3 hours, remove the pot from the oven and add in your carrots, potatoes, and mushrooms. Using long tongs, carefully flip the shank, nestling it amongst the vegetables. Replace the lid and return to the oven for 1 hour or until the vegetables are cooked through. The lamb shanks are ready when they are fork tender but still clinging to the bone a bit.
Remove from the oven, garnish with parsley or chives and enjoy!