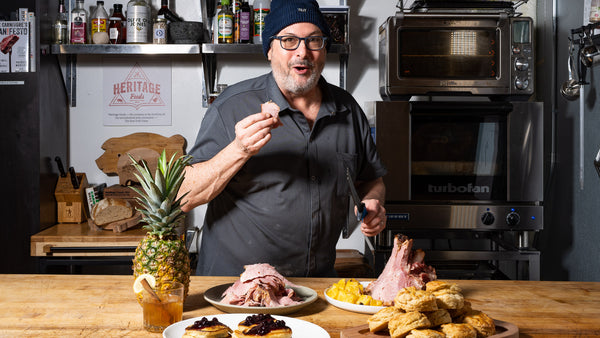 Bourbon Pineapple Glazed Ham
By Chef Neil Kleinberg
Lifelong New Yorker, Brooklyn born and bred, Neil Kleinberg of Clinton St. Baking Co. raised himself in a crazy kitchen in Flatbush, among a boisterous clan of siblings and neighboring cousins, uncles and aunts. At 10 years old, he became a one-boy culinary wonder who'd do anything to avoid his mother's "famous" dish: chicken in a pot. Neil opened his first restaurant, Simon's in Lincoln Center, at just 22 and in 1997 re-opened the legendary seafood restaurant, Lundy's, in his native Brooklyn.
Classically trained in the French culinary tradition, Neil has gamely eaten and cooked his way through much of the world, and has never met a slice of pizza or Chinese egg roll he didn't like. Neil is the co-author of Lundy's: Reminiscences and Recipes and, of course, The Clinton St. Baking Co. Cookbook. He serves on the Advisory Board of his alma mater, New York City College of Technology.
Ingredients:
12 cloves

6 cinnamon sticks

2 cups light brown sugar

½ cup molasses

½ cup maple syrup

2 cups fresh squeezed orange juice

2 cups bourbon

1 fresh pineapple, peeled and cut into 1" cubes
Preparation:
Let the ham come to room temperature. Preheat oven to 275º F. Score the fat cap of the ham in a crosshatch pattern about 2" apart. Be careful to only score the fat, avoid cutting into the meat itself. Stud the ham with cloves.
In a small bowl, whisk remaining ingredients together. Place ham on a rack in a roasting pan that can accommodate the glaze and rendered fat. Pour glaze over ham. Cook for 4-6 hours, depending on the size of your ham. As the ham is already fully cooked, you are looking  for a nice char on the outer layer. Periodically baste the ham with the glaze. If the glaze and drippings in the pan become too dry while you baste, add water to the roasting pan. When it looks ready, remove the ham from the oven. Save the dripping from the bottom of the pan, pour them into a small saucepan, and reduce until syrupy to serve with the ham after carving.
Remove ham and save dripping from bottom of pan and pour into a small saucepan and reduce until syrupy, to serve with the ham after carving.

Allow the ham to rest for 15 minutes, carve and serve with the glaze.