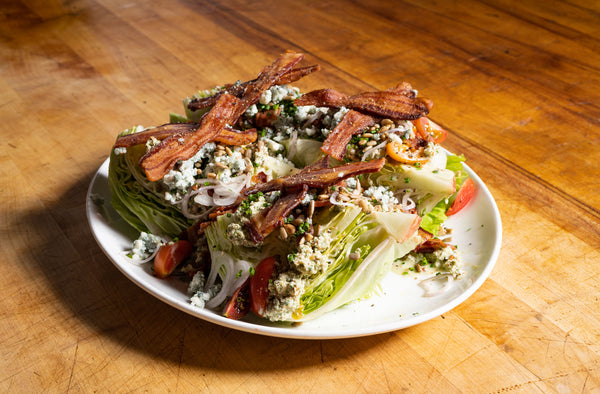 Blue Cheese and Heritage Bacon Wedge Salad
A stalwart of steak houses and often misunderstood by the iceberg lettuce-sketpic salad world, this classic bacon & blue cheese salad is about two things — texture bolstered by flavor.

The lettuce should be fresh, cold, crunchy and bright, but it's the creamy dressing and toppings that have made the wedge salad a key part of the American fare since at least 1916, when the first known printed version of the recipe appeared in Marion Harris Neil's cookbook, "Salads, Sandwiches and Chafing Dish Recipes."

In the more than century since, cooks have created spins from an olive cucumber loaded Mediterranean version to ones with ranch dressing. Here at Heritage, we like the classic bacon and blue cheese. We spike wedges with Signature bacon and Bayley Hazen blue cheese from our fridge for a wedge that is robust enough to stand on its own, but also serves as a perfect complement to steak, roast chicken, guinea hen and pork chops. The key is in the assembly so we have also created a no-nonsense video that makes an iceberg skeptic rethink their stance.
Ingredients:
1 cup Crème Fraîche
½ cup Buttermilk
¼ cup Bayley Hazen blue cheese, plus the remainder of 8 oz piece of cheese crumbled for garnish
1 head of roasted garlic cloves
½ cup picked italian parsley
½ cup picked dill
1 tbsp freshly ground coriander
1 tbsp freshly ground cumin
¼ of a shallot
½ lemon, juiced
1 tsp worcestershire sauce
1 head of iceberg lettuce, quartered
1 cup of cherry tomatoes, sliced into quarters
½ cup thinly sliced shallots
¼ cup minced chives
¼ cup of sunflower seeds
Salt and pepper to taste
Preparation:
In a preheated oven at 350ºF, bake 1lb of Signature heritage bacon until evenly crispy, about a half hour or so. Crumble all but 4 slices of bacon, save these for garnish and slice the rest in half. 
Turn the oven up to 400ºF. Slice the top off a head of garlic, drizzle with olive oil, season with salt, and wrap in aluminum foil. Bake on a sheet tray for about 45 mins until the cloves are golden and jammy. Allow to cool, remove the cloves from the head, and set aside.
In a food processor or using a stick blender, add the crème fraîche, buttermilk, blue cheese, roasted garlic cloves, parsley, dill, coriander, cumin, shallot, lemon juice, and worcestershire, and blend until combined. Taste and season with salt if needed. Remove to a container and set aside.
Slice one head of iceberg lettuce into quarters and place on a large plate. Top with cherry tomatoes, blue cheese dressing, bacon crumbles, sliced shallots, minced chives, and sunflower seeds. Garnish with remaining blue cheese crumbles. Top with reserved sliced bacon and season with freshly cracked black pepper.