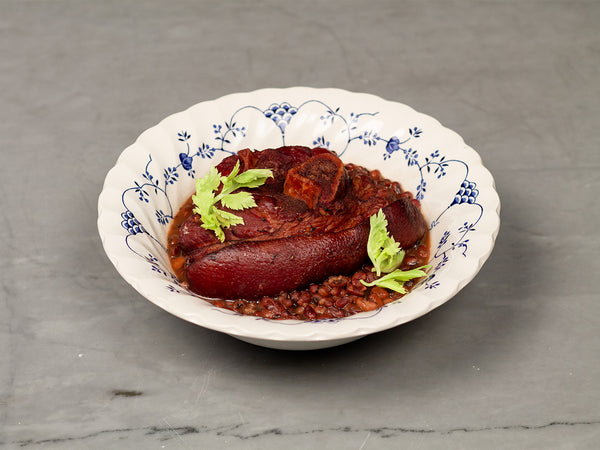 Anson Mills Sea Island Red Peas with Cured Heritage Pork Hocks
The Sea Island Red Pea is a tiny heirloom bean in the Southern US culinary family of "field peas." They cook quickly, are deep in flavor, and become truly excellent when cooked with cured pork. Our cured Heritage hocks lend a little fat and succulent pieces of meat to these already richly textured beans for a healthy and comforting meal.
Anson Mills Sea Island Red Peas with Cured Heritage Pork Hocks
4-6ea Heritage Hocks

 

(wrap any remaining hocks tightly in plastic and freeze up to a year)
8 cups water, chicken stock or a mixture of both
2 cups Anson Mills Sea Island Red Peas
1ea celery stalk
½ ea onion
2 ea bay leaves
Ominvore Salt to taste
Freshly ground black pepper to taste
Place hocks into a 2 gallon straight-sided pot over medium heat. Turn every few minutes to render a little of the exterior fat from the hock and enhance the broth. Turn off the heat and add 4 cups of water or stock. Bring the liquid to a boil, then turn down and simmer on low for 30 minutes. This will ensure the meat is tender around the same time as the bean is fully cooked. After 30 minutes, add 4 more cups of water or stock to the pot then add 2 cups of beans, celery, onion, and bay leaves.
Bring to a boil and reduce to a low simmer for an additional 40 minutes to an hour until the beans are creamy but no more than a few are broken. Turn the heat off, taste and season the broth with Omnivore salt and pepper (you can be generous with your seasoning here – the beans will absorb the salt as they cool and the broth will even out as a result).
Carefully remove the vegetables and bay leaves. Serve in a shallow bowl with the whole hock, beans, and broth or peel the skin and fat from the shank and add the meat from the bone back to the beans for more refined eating. For an easy garnish, coat thin slices from the center of a celery heart along with its brightly colored leaves in a splash of cider vinegar.