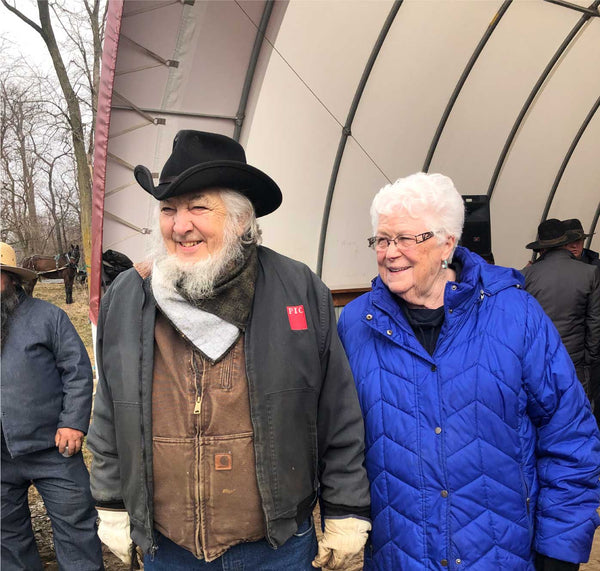 The Red Wattle and Larry & Madonna Sorell
We met Larry and Madonna Sorell in 2002, as growers for Frank Reese and the Heritage Turkey Project. As their turkey flock grew in size, so did the Sorell's importance to Heritage Foods.
When you see Red Wattle pork on a menu, what you are seeing is a five-state, twelve farm network founded by Larry and Madonna, dedicated to raising a storied breed that was once upon a time nearly extinct. Larry and Madonna are the heroes of this story, avatars of the heritage food movement, true believers who were destined to become the Guardians of the Red Wattle. They are proof positive of the ethos that when it comes to endangered livestock, "you have to eat them to save them."
In the beginning, back in 2004 when the Heritage Foods wholesale business began selling pigs, a market for the Red Wattle pig was built on a handshake agreement with chefs Zach Allen and Mark Ladner, then at Lupa Restaurant in NYC. They recognized the high-quality and undiminished taste that came from a Red Wattle pig humanely raised on-pasture and antibiotic free, using traditional farming methods. The deal with Ladner, and the partnership with Larry and his Lazy S Farms, were part of the origins of Heritage Foods.
"We traveled 18,000 miles to get started," Larry says matter-of-factly about a Heritage Foods Odyssey whose mission was to search out rare Red Wattle sows and collect a viable genetic lineage of this incredible pig whose American legacy goes back to 18th century New Orleans. "When we began, we had two Red Wattle gilts and a boar, and we had to travel all over the United States to start a herd."
"Now I've kinda retired from raising animals, but we have a dozen Amish growers working with us, and I pick up the hogs and pay for them, and then bring them to the processor, Paradise Locker. I drive a tractor trailer and go around picking up three hundred pounders, fifty to eighty head a week. We have farms in Illinois, Kansas, Nebraska, Missouri, Iowa... that's a lot of traveling. We may have four or five pick-ups every week. You wear out a truck pretty fast."
Larry, now over eighty, does less of the driving, but he still keeps all the relationships going, which isn't easy considering the Amish don't have phones inside their homes! "I'll have to quit sometime but right now it's going pretty good. The driving is easy. The hard job is you gotta keep Amish families happy, picking up their hogs, coordinating, monitoring the size of the animals, and making sure we have the right amount — each week we round up 50 to 100 pigs. And we've been doing it for almost 20 years now."
Thanks to Larry and Madonna's work, the Red Wattle was upgraded to Threatened status from Critical on The Livestock Conservancy's watch list, a great achievement for the cause of biodiversity, one of the most important issues of our time.