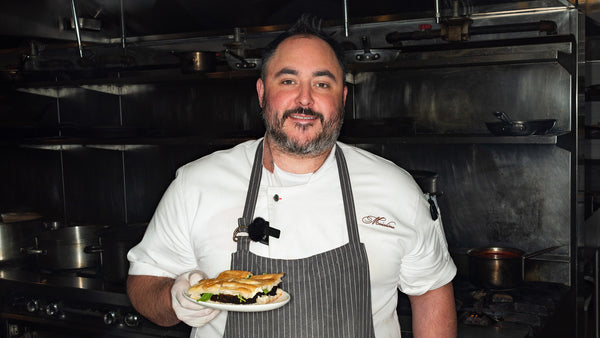 Spuntino di Pancetta at Maialino (vicino)
We were so happy to get behind the scene access to Maialino, one of New York's most beloved restaurants which closed temporarily during Covid and reopened in a new location a little under a year ago. Now located next to Marta, Maialino is run by chef Joe Downey-Zayas, a long time member of so many great Union Square Hospitality kitchens. Joe is the Executive Chef of Maialino (vicino) and Marta at The Redbury Hotel. With a deep passion for Roman cuisine and culture, Joe is thrilled to lead the revival of one of New York's most beloved Italian restaurants. We were so happy to see him and his team in action and to taste one of chef's most delicious creations.
Joe first started working in kitchens during high school and college, but it was a trip to Rome during his freshman year that solidified his professional culinary ambitions. After graduating from Fordham University in 2010 with a degree in accounting and finance, Joe joined the kitchen team at Maialino in the Gramercy Park Hotel as a pastry cook. Eventually transitioning from pastry to savory, those early years at Maialino afforded Joe an appreciation for rustic cooking focused on quality ingredients executed at the highest level.

In 2013, Joe left Maialino to open American Cut with Chef Marc Forgione. The following year, he joined the opening team at All'onda in Greenwich Village, where he further honed his Italian cooking fundamentals.
Joe returned to his Maialino roots in 2016, rising from Sous Chef to Chef de Cuisine, working alongside one of his long-time mentors Chef Jason Pfeifer to lead the award-winning back-of-house team. During the pandemic, Joe remained in the Union Square Hospitality Group family, joining Chef Lena Ciardullo and Union Square Cafe kitchen as Chef de Cuisine. In 2022, Joe reopened Maialino (vicino) as Executive Chef.