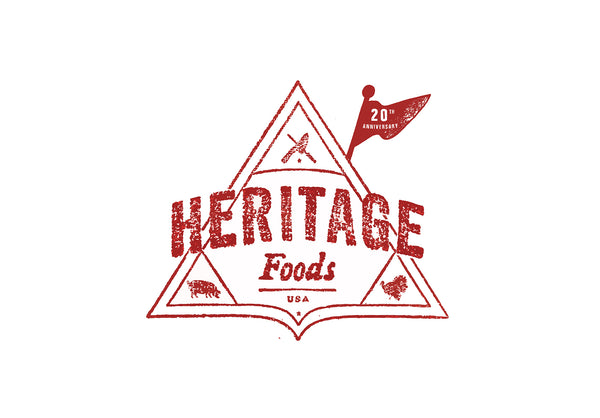 Ark of Taste Collection
The Ark is Slow Food's most important project, and the project that best celebrates flavor and pleasure as part of our cultural heritage – Patrick Martins, founder of Heritage Foods USA
Slow Food's Ark of Taste is a living catalog of delicious and distinctive foods facing extinction. This metaphorical ark carries the dual goal of helping preserve the cultural and social narratives embedded within American food traditions while promoting and preserving biodiversity within our delicate food system.
We began Heritage Foods USA 12 years ago when we first offered Frank Reese's Heritage Turkeys to the young but growing Slow Food USA network . Each turkey became an opportunity to share our vision with a wider audience, which is to develop a responsible alternative to commodity-raised meat while promoting biodiversity on the ground.
Since that first Thanksgiving we have grown our network to include over 90 farmers— farmers who collectively raise over 75 different heritage breeds on open pasture the "good, clean and fair" way.
Preserving our culinary heritage is front and center of the mission for both Slow Food and Heritage Foods USA. This is why we are so excited to announce our most recent collaboration with Slow Food USA This Thanksgiving we are featuring a special collection of foods from the Ark of Taste to share with your friends and family this holiday!
Learn More About Our Ark of Taste Collection & Pre-Order Yours Today!
To celebrate this important milestone for Ark of Taste products and producers we hosted a tasting to share and experience these rare foods. Joined by Richard McCarthy, Executive Director of Slow Food USA; Alice Waters, American culinary pioneer; Carlo Petrini, founder of Slow Food; and other leaders and visionaries from the Slow Food community we tasted each product that is included in our Ark of Taste Collection along with other seasonal and special Ark products that were shared with us by our wonderful network of farmers and producers.
Spanning the breadth of sustainable, delicious and diverse food made in the United States, we tasted Newtown Pippin Apples that are grown on the Hudson River and have sold in New York City for 7 generations. We also enjoyed Sonoran Wheat berries from Arizona, which signify a beacon of rebirth for heritage grains uniquely adapted to the climate in which they are grown. We sampled 17 products in total, each with a distinct story but sharing the common theme that they delicious are made by people committed to doing things the "good, clean and fair" way- each impacting our food system in a small way and collectively changing the way we enjoy and buy our food.
We want to thank all of the producers and purveyors of the Ark of Taste products that were a part of tasting.
Saxelby Cheesemongers
Tait Farm
Baer's Best
Woods Cider Mill
Prospect Hill Orchards
Native Harvest
Missouri Northern Pecan Growers
Southern Exposure Seed Exchange
Hayden Mills
Shields Date Garden
Yanabah
B & R Farms
Native Seeds
Mike's Honey
Mauthes' Progress Milk Barn
Deep Run Pawpaw Orchard
Bruce Cost Ginger Ale
The Ark is Slow Food's most important project, and the project that best celebrates flavor and pleasure as part of our cultural heritage – Patrick Martins, founder of Heritage Foods USA.