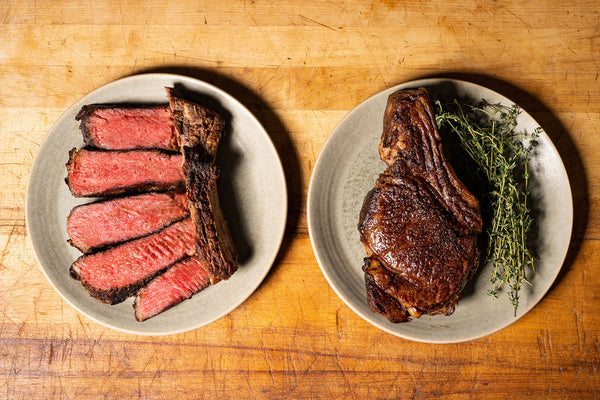 How to cook a steak
It doesn't seem like there should be that much mystery involved in cooking a steak, but it is not as easy as you may think…or maybe it's way easier and you are just over thinking it. I know that until recently most steaks I cooked were either way over done or stabbed to death with a meat thermometer (usually some combination of the two), but I have since read up on the subject and can confidently grill or pan sear a steak. I consider this a major life accomplishment.
So, here are a few simple tips gathered from around the internet and tested in my kitchen:
Start with a good steak. At Heritage we carry Ribeye and NY or Kansas City Strip steaks. Our farmers care about the health of their cattle and the conditions they are kept in and that translates to high quality meat.
Know what you like and don't get too distracted by lots of labels and titles. Prime, Choice, and Select are all USDA distinctions related to tenderness and marbling – they say nothing about the cow. Organic, grass-fed, and grain finished related to how the cow was raised, but can also indicate how the   beef might be. Grain finished tends to have more marbling and be more tender, while grass-fed may have a more distinct flavor and leaner, more developed muscle. Know what you are looking for in a steak and choose accordingly.
Salt. Salt is important not only for flavor, but also for moisture. Salt draws moisture out of your beef before you cook it, so it browns better (and tastes better)
Use a thermometer. A thermometer is like an x-ray for your steak – it can tell you exactly what's going on inside.
Rare: 125°F – 130°F
Medium-Rare: 130°F – 135°F
Medium: 140°F – 145°F
Well-Done: 160° and higher
Meat continues to cook after you take it off the grill, so remove your steak from the grill or pan when your thermometer is about 5 degrees less than you want it to be.
Rest. Let your steak rest before you eat it that was the juices redistribute. About 5 minutes should do it.